Hostel Kucha
YOUR HOSTEL IN THE HEART OF SARAJEVO!
Kucha is the Bosnian word for home.
Welcome home!
Kindly remove your shoes at the entrance, put on our comfortable slippers, and head inside!  This is not just a hostel; it is a way of life. It does not matter where you are from or where you are going, the important thing is that you are here.
Staying here means you are one of us – Kucha buddies.
This is a comfortable and peaceful place to see the city. We are located on a hill with a beautiful view of Sarajevo, just a 10-minute walk from the heart of the old town—easily
accessible on foot or by car.
Are you a first time backpacker? A digital nomad? All are welcome here!
So what can you expect from us? As soon as you ring our doorbell, you become part of our family—we greet you with a pair of comfortable slippers and once the check-in is complete and we have showed you to your room, join us for some free Bosnian coffee or a nice cup of tea: you deserve it!
9 Bosnian-themed rooms to choose from.
All dorms have multiple power-outlets and large luggage lockers.
Linen and towels are always included. All of our sheets and linen are made from organic cotton.
Free WIFI everywhere.
SRCE SARAJEVA
This room is named after the Heart of Sarajevo – the highest prize awarded at the Sarajevo Film Festival.
It is a spacious and light-filled private room with a queen-sized bed, ensuite bathroom, television, and a beautiful view of the surrounding hills.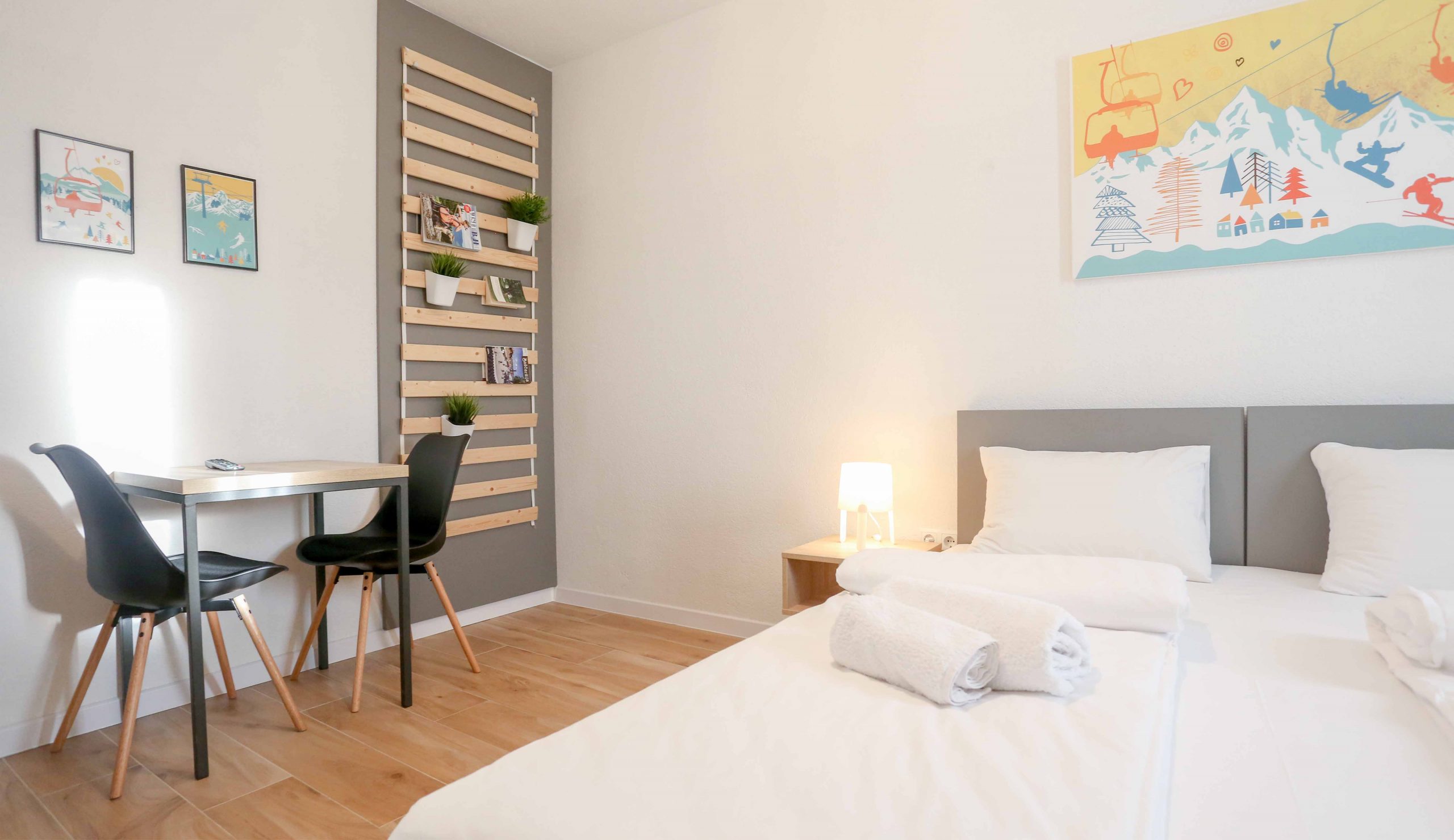 PLANINE
Planine is the Bosnian word for mountain. The highest of the surrounding peaks is Treskavica at 2,088m. This private room has two beds that can be placed together or separately, as well as a television. The bathroom is shared with the other guests in the female-only room located on the same floor.
MOSTOVI
Mostovi is the Bosnian word for bridge. The Latin Bridge is an Ottoman bridge over the river Miljacka. It was known as Princips bridge during the Yugoslav era in honour of the assassin who shot Archduke Franz Ferdinand in 1914. This is a spacious mixed gender, 6-bed dorm located on the second floor.
Do you crave a home cooked meal just like your parents used to make? Well we have great news for you! Our hostel has a fully equipped kitchen! At Hostel Kucha we take food very seriously!
So please, enter, have some free Bosnian coffee or a cup of tea, and make the most out of everything we have, from the oven to the delicious free spices. This is the best place to have a unique experience with other guests. Don't just sit there staring at your phone: MINGLE! Our kitchen is the perfect space to relax, cook, eat and drink wine, and play card games. We are located next to several grocery stores, bakeries, and restaurants, so it is also very easy to pick up food close-by and come back to eat it here.
P.S. the staff love to cook and share their recipes with you but they also love when people cook something from their own countries! In the same room you will find two comfy couches and a TV with over a hundred channels. So sit back and relax! Watch some cartoons, a few music videos, or buy some popcorn and
find a movie to watch!